Give yourself an enriching adventure!  Write and learn, relax and explore—inspired by beautiful landscapes and good company. I offer field workshops and retreats based in California and Oregon, ranging from a few hours to several days in length.
See a quick list of upcoming offerings in the overview below; scroll down for details. I recommend early registration, as some classes fill fast.
Click the sponsoring organizations' links and/or contact them directly for information about fees, logistics and registration. For details about program content or for help deciding if a class is right for you, feel free to contact me.
A note on accessibility: Physical layout of facilities varies from one venue to another. The Pt. Reyes Lifeboat Station and SF State field campus, for example, have substantial staircases; others present fewer vertical challenges. If you have mobility issues, please communicate with the sponsoring organizations and with me to get a clear picture of whether the venue in question will be accessible and comfortable given your physical needs. We want to avoid unpleasant surprises, and we also want to make it possible for you to participate fully in your chosen program if at all possible.
Overview by Date
June 10, 2017: "A Light on the Path: Writing toward Clarity in Point Reyes" (Point Reyes National Seashore Morgan Horse Ranch House)
June 24, 2017: "'How Can I Help?': Finding Your Path in Troubled Times" (Santa Cruz, CA)
August 6-11, 2017: High Country Writing Retreat (North Yuba River, CA)
March 2-4, 2018: With Christian McEwen: Exploring the Nature of Place at Mesa Refuge (Point Reyes Station, CA)
Saturday, June 10, 2017
10:00 a.m. – 4:00 p.m. • Morgan Horse Ranch House, Point Reyes National Seashore • $110 general/$90 Point Reyes National Seashore Association memberes
Let go of daily concerns, immerse yourself in the life-giving environment of Point Reyes National Seashore, and spend a day connecting with your own deepest wisdom. In a safe, encouraging atmosphere, we will write to cultivate attentiveness to the larger-than-human world—and, in doing so, shed light on the worlds within ourselves. The writing strategies we practice in this workshop can help you draw on the land's lessons any time you seek insight and a way forward. Our time will be divided between classroom work and nearby outdoor forays on foot. Both new and experienced writers are welcome.
Saturday, June 24, 2017
How Can I Help? Finding Your Path in Troubled Times
Upper Room, Peace United Church of Christ, Santa Cruz, CA • 1:00-5:00 p.m. • $25 covers expenses and donation to church
This workshop is open to all who seek authentic ways to respond to the cultural, political and spiritual challenges of our times. We will take as our premise theologian/activist Howard Thurman's exhortation "Don't ask yourself what the world needs. Ask yourself what makes you come alive and go do that, because what the world needs is people who have come alive." In a supportive, confidential circle, using writing as a tool for exploration and discovery, Sarah will provide a gently guided opportunity to consider "what makes you come alive," and the actions such insights might inspire. To register, please contact Sarah at srabkin57@gmail.com  or 831-475-7548. 
August 6-11, 2017
This is a great opportunity for both new and experienced writers to take inspiration from the spiced air and rushing waters of the northern Sierra. Group sessions provide a stimulating setting for writing and sharing work without judgment, while unstructured periods allow plenty of time for individual writing, recreation, and optional one-on-one conferences. Prompts and exercises are conducive to poetry and/or prose. Bring a writing project in progress, an empty notebook ready to be filled, or both. 2017's class should soon be posted for registration on the SFSU Sierra Field Campus website. 
March 2-4, 2018
Listening Out: Exploring the Nature of Place in Point Reyes Station
co-taught with Christian McEwen
Join us for a gentle transformative weekend at the Mesa Refuge, with a focus on listening and creativity. Christian and Sarah are both experienced writer-teachers with a passionate interest in the natural world. We will introduce a series of short writing, drawing and contemplative practices, making sure to allow plenty of time for solitude, as well as for reading, sharing and discussion. This retreat is especially suitable for writers and artists, of any level of expertise, but everyone is welcome. Expect to emerge with a renewed understanding of your own true nature, as well as the nature that surrounds and sustains us all.
The retreat will begin with an introductory session, including a light meal, from 6:00pm to 8:30pm on Friday evening. We will reconvene from 10:00am to 4:00pm on Saturday and from 10:00am to 3:00pm on Sunday.
Comments from 2017 participants:
"I loved the place, the space, the group interactions, the time spent writing in balance with time spent sharing. Most of all I loved the spirit, wisdom and generosity of Christian and Sarah."
"The two of you work together beautifully, and I appreciate your warmth, the sense of welcome & receptivity, and all the resources you so thoughtfully shared."
"The workshop put me in touch with the love that can be generated in community… It put me in touch again with my writing self. It put me in touch with the wind again. Just those three things alone made the weekend such a valuable experience."
Registration
The fee (TBA) includes supper on Friday evening; participants bring lunches on Saturday and Sunday. Registration, limited to 13 participants, is on a first-come, first-served basis, with full payment by check required to hold your place at the time of registration. For cancellations requested no later than two weeks in advance, the fee is refundable, minus a $25 administrative charge.
Suggestions about local lodging options will be available for participants traveling from beyond commuting range.
For more information and/or to register, please contact Sarah Rabkin via email (srabkin57@gmail.com) or at 831-475-7548. This retreat is currently full. Contact Sarah to be added to the waiting list.
Instructors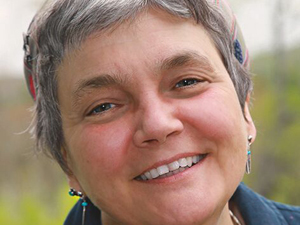 Christian McEwen is a Mesa Refuge alum, a British writer and workshop leader, currently based in Williamsburg, Massachusetts. She has edited four anthologies, including Jo's Girls: Tomboy Tales of High Adventure, and has written for the Nation and The Village Voice. Her book World Enough & Time: On Creativity and Slowing Down is fundamental to the theme of our retreat.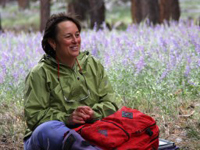 Sarah Rabkin is the author and illustrator of What I Learned at Bug Camp: Essays on Finding a Home in the World. A teacher of composition and environmental and science writing at UC Santa Cruz, she also leads workshops and retreats for the Point Reyes Field Institute and other outdoor education organizations. Sarah grew up in Berkeley and currently lives near the shore of Monterey Bay with her husband, poet Charles Atkinson.
Back to top